Welcome to the Equinox Grid Website. Hopefully all of your questions about the grid can be answered here on this website. If you have further questions, you can email me or IM me inworld.
Equinox Grid is a private, non-commercial grid. The original purpose of Equinox Grid was to host Club Equinox, however it's primary purpose is for me to have something to tinker with, period. When visiting Equinox Grid, both grids have the same rules; which are primarily no child avatars and no drama.
There are now TWO Equinox Grids. The old grid Equinox Grid 2019 which runs Opensim 0.9.0.1 and the new grid Equinox Grid 2022 which runs Opensim 0.9.2.0. Most of the regions that were on the old grid, EQG19, have been shutdown. The main grid is now on the new grid, EQG22.
For now, the old grid is planned to only have the Welcome Hub, SACS and the EQG Mall. However, the EQG Mall will only be accessible to avatars I give access to. The last party at Club Equinox on the old grid will be on January 23rd. On February 20th, Monsters Ball will be held on the new grid. This Monsters Ball will double as the Equinox Grid 2022 Grand Opening.
---
PLEASE NOTE: creating a Website account will NOT create an Equinox Grid account, on either grid. I must manually create user accounts, and I am very selective about who or whom will get a user account on either grid. I actually even have a Citizenship Test.
---
If you are Citizen, and need to do Citizen activities such as change your password, please choose the correct Citizens' Page. You may access it here:
---
Club Equinox Schedule
equinoxgrid.com:8002:EQG Club Equinox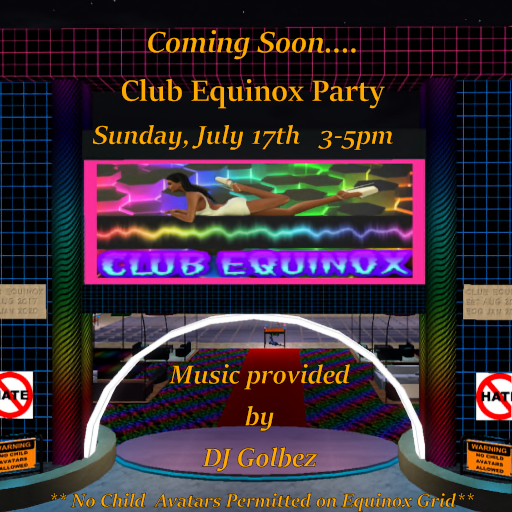 Grid Events